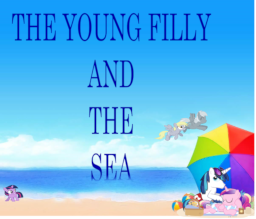 Source
Once upon a time, there was a very young filly named Twilight Sparkle who went to the beach and met a very young colt named Rex.
They played in the sand, looking for sea shells and making sand castles all day long.
And found something neither of them expected.
Finalist in the Most Dangerous Game Contest
Editing assistance by Peter, Tek
If you liked this story, you may also like A Simpler Time by DJLowrider. Enjoy.
Picture Credits on DeviantArt:
Filly Twilight Sparkle by zomgmad
Good Pace by SilverVectors
Derpy Hooves Flying by SierraEx
Princess of the Beach by dm29
Beach Backgrounds Clipart from 3906 HD Wallpapers
Chapters (3)