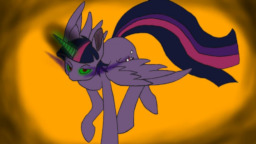 Twilight Sparkle has been imprisoned for the murder of King Sombra in retaliation to the murder of her own brother. Locked away in solitary confinement with no visitation for nearly half a year, Twilight begins to believe that she's all alone, that is until Rainbow Dash sneaks into her cell on Hearts and Hooves Day.
Based on real life events. Inspired by "Painkiller" as made famous by Three Days Grace, "Say it ain't so" as made famous by Weezer and "Behind Blue Eyes" as made famous by The Who. Dedicated to someone very special to me.

Edited by: Crystal Moose, and I can't even describe how grateful I am.

The cover art was drawn by me.
---
Story One of the upcoming Painkiller Series
Chapters (1)