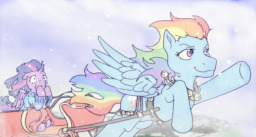 Source
Getting presents on Hearth's Warming is great. Everypony knows, however, that what's even better is giving somepony else the perfect present. Twilight Sparkle figured out long ago that seeing their eyes light up with the magic that can only be felt on this special day was what really brought ponies closer together in each other's hearts.
So, when Rainbow Dash shows up early Hearth's Warming morning with a rickety old sleigh and tells her to hop in, how can she refuse? After all, sometimes the best gifts are the most unexpected ones.
Pre-reading and editing services courtesy of Melon Hunter and Carabutt.
Cover art by Rossby Waves.
Chapters (1)