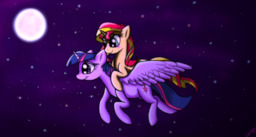 Source
30 moons have passed, and Sunset Shimmer sets on her way home. She's confused and upset, and she can only pray for a chance to prove her worth in Equestrian society once more. She receives so much more than that.
Season 5 and all but the first of the Equestria Girls movies are not canon to this story.
Warning: This is, in fact, a SunLight or Sunset x Twilight ship fic. If that bothers you, please don't read this.
Featured! 17/5/14
Chapters (8)