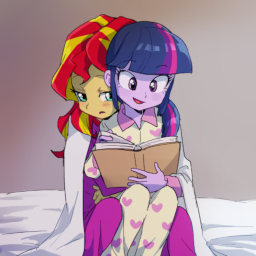 Source
Twilight invites Sunset to spend a night at her house. Late night, Twi decides to read a story to her friend, but it seems that Sun isn't paying attention to the story. Why was she looking like that at Twilight?
---
Cover art by my Sunlight senpai the great baekgup! Taken with permission!
Edited (again) by Exterminate Regenerate! Give him chocolate!
Rinnaul's review about it, check it out!
Chapters (1)