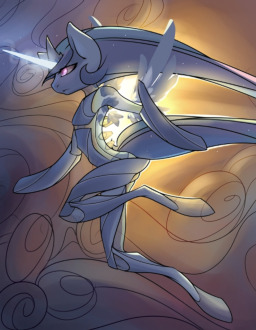 Source
Twilight Sparkle, youngest arch-mage and technomancy prodigy of Canterlot finally desires something more than research. Unfortunately, love, friendship and other ponies are too chaotic and unpredictable for the mare, with too many variables for her to take into account to optimally navigate.
It didn't take her long to realize that she needn't navigate the raging rapids of love, when she could bypass it altogether and simply design and build her own perfect mare!
Thus, the C.E.L.E.S.T.I.A project was born.
Central - Electronic - Learning - Emotion - Software for - Tenderness - Intimacy and - Affection
---
Alt-Universe for no Princesses / Technomancy/Technopunk world.
Twilight isn't an Alicorn.
This story is from Celestia's P.O.V.
Image source is: Celestia 2.0 by Pon-ee
Chapters (12)