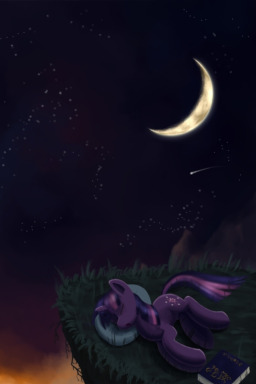 Source
"And we are absolutely certain that's a settlement? That Rhysling already has Indigenous populations?"
"Yes, Commander. There is no doubt. An engineer can fix the probe, but he would not know how to talk to them."
"Alright. Forget the engineer, then. Get me the linguist."
---
Coverart by SagebrushPony (not on Fimfiction).
Preread by Sunnypack, Shinzakura, Ghuntz, and Admiral Biscuit.
French language support by Conflicting views and Sparktail. German language support by Purple Smart. Russian language support by Alkarasu.
This story follows show canon until the end of Season 1.
Featured on 30 June -- 4 July 2021.
Chapters (25)