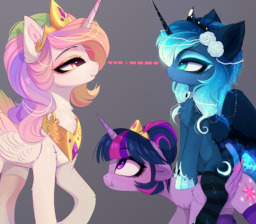 Source
Princess Twilight, for all of her knowledge, didn't particularly know that much about Celestia or Luna's past. In an attempt to figure out more about her peers she digs up the infamous time travel spell. Jumping at the chance to gather first-hoof about the only other immortal ponies she dives head first into the past!
Finding that she has stumbled into helping the Princesses on a mighty quest she isn't hesitant to lend a helping hoof but her resolve is quickly tested when not all is what it seems and the past, and present, of Equestria is put at stake!
Follow Twilight, and the would-be Princesses, across the world as they track down dangerous artefacts, delve into dilapidated dungeons and avoid disaster in a race against time itself!
Romance will, eventually, be between Luna, Celestia and Twilight.
This story will include gratuitous amounts of cuteness at times.
There will be action and a little dark here and there, but only because it's the past and fighting does occur. It won't be a regular thing, trust me.
There is time travel and Twilight will be jumping around the timeline. But don't think about it too much!
The AU tag is only there due to the Princesses still being there, as well as the whole world existing before Equestria thing.
The world this story takes place in is: Equestria and Beyond. I absolutely love the detail which was put into this. Obviously there's parts not included, such as the Crystal Empire, etc.
I'm thankful to Dusk Melody for reading through and helping me realise the direction I wanted the story to go in.
Spelling, grammar and general thoughts have been provided by TheGreatEater
The source of the image used is: Magnaluna - Eye contact
---
->19/10/2019
Thanks for featuring! <3 Love you peeps!
Chapters (22)