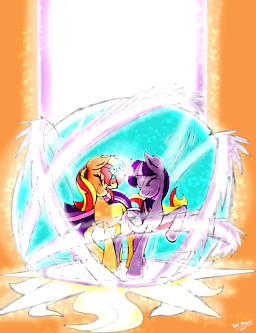 Source
Traveling back to Equestria for summer vacation seemed like the best idea ever. However Sunset Shimmer's home brings back memories and thoughts that haven't surfaced since her reformation. Forgiveness is never easy especially when it comes to forgiving oneself. That coupled with a deadly changeling plot against Princess Twilight has Sunset running in circles to protect her friends and figure herself out.
Extra Tags: Chrysalis, Changelings, Flash Sentry (I'm so sorry).
This may be subjected to change as the story progresses.
Extra side note: the cover art for this story was done by me


Extra Extra side note: To everyone who has faved and liked thank you so much!
Final Side Note: I've edited the spacing and scene transitions so it's less of an eye sore.
MUST READ: So an awesome friend of mine has started working on an animation for this story. He has a rough cut of the first scene in the first chapter. Check it out here and leave some feedback!
Summer Sunset Chapter 1 Animation Test
Proof Read/edited by: 1DATMLP
Chapters (13)