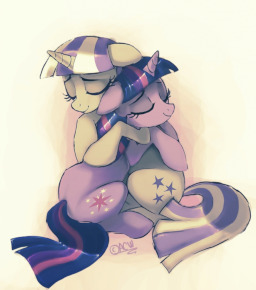 Source
Twilight Velvet loves her daughter with all her heart; she outshines her in every way, is the prized student of Princess Celestia, and will no doubt go on to have an impact on Equestria the likes of which has never been seen before and never will be again. But despite Twilight Velvet's pride and love for Twilight Sparkle, somber thoughts weigh heavily on her mind when her daughter comes to visit.
Why does Velvet feel so inadequate? Why can't she be to her daughter what Princess Celestia is to her? What is the measure of a mother?
---
Set prior to Season 1. Celestia doesn't physically appear but is mentioned extensively.
Chapters (1)