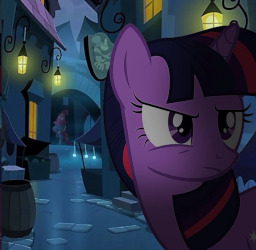 Twilight Sparkle regrets a lot of decisions. Not spending more time with her family. Wasting away in a library rather than being out making friends, among other things. But when she can she attempts to make right what she feels she has done wrong.
And an opportunity to do that has presented itself.
When her friends return from Manehatten having encountered a former enemy, Twilight sets off in search of somepony Great and Powerful, to do what she feels she should have done a long time ago.
Sometimes though, the damage done can't be repaired, mistakes aren't forgiven, and the opportunity passes by.
---
Takes place after Season 4.
Chapters (1)