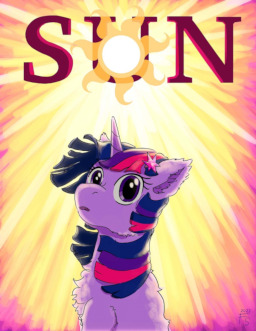 This story is a sequel to Sparkle
---
Twilight Sparkle has been out to her friends as a mare for a while now, and things have been better than she could have imagined.
But the Grand Galloping is fast approaching, and Twilight plans to attend as herself. Which means coming out to all of Equestria, and by extension, her parents.
Surely there'll be enough time along the way for Twilight to figure out exactly what Pinkie Pie and Rainbow Dash are to her! Not to mention how to tell her other friends...
---
Story will update as chapters are finished.
Content Warnings: Gender dysphoria, coming out, "Well intentioned" transphobia from parents, transphobia from strangers.
Sex tag for: Named discussion of genitals in a transition context.
---
Featured, 1/30/2022! Thank you very much!
Chapters (3)