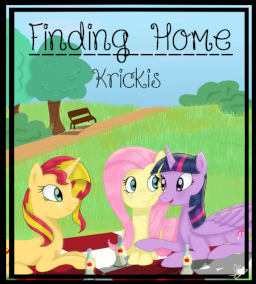 Source
This story is a sequel to Inner Strength
---
This story is a sequel to Playing House
---
After discovering the magic of friendship, Sunset Shimmer's senior year was one of the happiest times of her life. But it's been almost two years since graduation; all her friends have moved on to studying abroad, to promising careers, to new lives.
Sunset decides that with nothing left to keep her in the human world, it's time to go back where she belongs, only to find that returning home is different than finding one.
---
A story set in the Who We Become series.
Although this story could be well understood without knowing anything about Who We Become, this comment will explain what happened in previous stories if you want to get caught up.
---
Content warning: This story contains depictions of polyphobia. The narcotics tag is included for heavy alcohol use, no hard drugs.
Thanks to ArchAngelsWings, elmago02, Eddie Grammar, and Dessert, known on Fimfiction as Mouch30 for editing/pre-reading. This text would be much uglier without them

And another thanks to Dessert for the wonderful cover art, which I'm sure is the biggest reason anyone notices this story in the first place

Chapters (23)