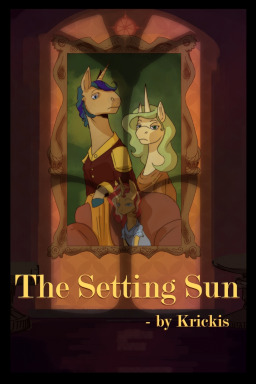 When Brass Badge met Golden Lace, they both knew it would change their lives. She was a young and beautiful socialite, and he was a distinguished general. They got along immediately, and more importantly, they were a good match socially. From that first meeting, it didn't take long at all until they were wed.
But no sooner were they married then they learned the truth – that there is more to marriage than what they had thought. Especially when an unplanned foal is involved.
---
A story set in the Who We Become series.
Although the story fits in as part of the series and will spoil other stories, no prior knowledge about the series is required to understand this story.
---
Thanks to TallFry, NaiadSagaIotaOar, and Sapphire who helped me with the description in the A/B Testing group.
Proofread by Krixwell, Eddie Grammar, and Sapphire
Cover art by Pasu-Chan
Chapters (1)