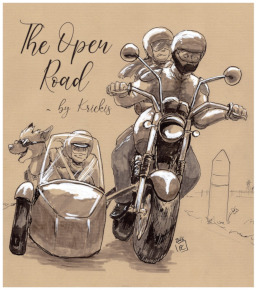 Source
This story is a sequel to Piece by Piece
---
Twilight Sparkle, Fluttershy, and Sunset Shimmer are used to controversy. Ever since Sunset was added to the others' marriage, ponies haven't stopped talking about them, and not in the way they would have liked. And being the newest member of the royal trio, Sunset's gotten the brunt of the public's ire.
So, when three royals and their draconic little brother decide to get away from it all for a while, it's no surprise that their first choice is going to be a road trip... to the human world!
So, the four embark on a journey, riding atop Sunset's motorcycle to fun, beaches, adventure, friends, and whatever else might lie before them! After all, what better place to lose oneself, if not the open road?
---
A story set in the Who We Become series.
Want to read this story without reading everything up to this point? You can catch up on what happened here!
---
This story was workshopped with Wendy Gowak, who came up with the outline with me based on my ideas.
Shoutout to Ice Star and Ninjadeadbeard who helped me with the description in the A/B Testing group.
Thanks go out to Gowak, Moonlight, TeamSpen210, Krixwell, and Sapphire for proofreading.
Cover art by Pasu-Chan.
Chapters (6)