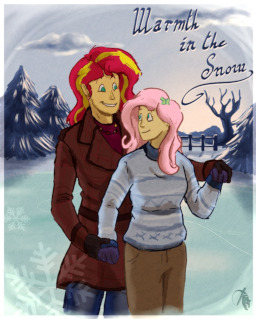 Source
Sunset never liked Christmas – it was just similar enough to Hearth's Warming to make her homesick. And of course, she didn't like Hearth's Warming either. Her friends never remembered the holiday, so the most she ever had to look forward to was a 'Happy Hearth's Warming!' message in the journal. So when Heath's Warming Eve came around, she decided it was better to just drink the night away. Wrapped in a cozy blanket with a bottle of wine, she was prepared to spend her evening scowling at Christmas specials.
Then Fluttershy showed up. Suddenly the holidays didn't seem so bad.
---
Thanks to:
ArchAngelsWings, for editing and in general being my partner in crime horsewords.
elmago02, for pre-reading and inspiring me to write about these characters.
Mouch30, for pre-reading and teaching me I never knew how to use a damn comma correctly.
Pasu-chan, for making the beautiful cover art and pre-reading, since I seem to have gone pre-reader crazy with this one.
Chapters (4)