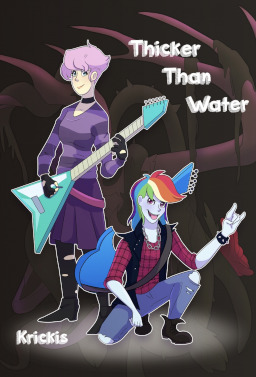 This story is a sequel to Playing House
---
Life for a band on tour always brings fresh challenges. Fluttershy is ready to meet them, having grown confident as a band manager in the past two years. It's just about the only thing she's good at, after all.
---
If you want to read this story but you haven't read any of the stories leading up to it, I wrote a summary of the events important to this story in the comments here.
A story set in the Who We Become series.
Who We Become is a realistic romantic drama series focussing on queer characters. People sensitive to queer issues should take caution before reading.
---
Content warning: The narcotics tag is included for heavy alcohol use, not hard drugs.
This story wouldn't be what it is without Wendy Gowak, who workshopped the chapter by chapter outline with me.
Thanks go out to Gowak, Moonlight, TeamSpen210, Krixwell, and Sapphire for proofreading.
Cover art by Pasu-Chan and Adgerelli.
Chapters (7)