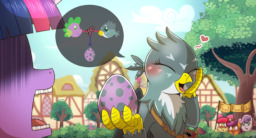 Source
Coverart by Vavacung
A collection of stories featuring Spike falling in love with mares and other creature that are not Rarity.
Love 1. Un-EGG-Spected Surprise = Gabby have a surprise for Spike, Twilight, and their family.
Love 2. A Smoldering Hearthwarming = Spike invite Smolder to celebrate Hearthwarming with his family.
Love 3. Punch Dragon's Love = Spike unintentionally foil Chrysalis's plan for revenge.
Love 4. A Flurry Birthday Surprise = Flurry Heart and Spike have to deal with an uninvited guest.
Chapters (4)