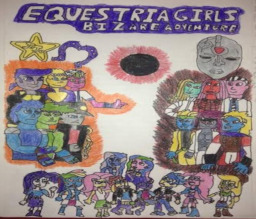 Through time and space, warriors who had the star shape birthmark fought against powerful enemies, who wanted nothing but victory and conquest. In this tale, six heroes defeated their own mighty foes and then were able to enjoy some peace until death. Their deaths came either by sacrificing themselves for others or naturally. Now, as their stories come to an end there are six new teen boys that bear the star shape birthmark. These six boys will go on bizarre adventures to Canterlot High where they will learn from each other, make new friends, find love, and push pass the limits of the darkest of evils as the six Jojo's roar to battle.
Rartiy x Jonathan Joestar, Pinkie Pie x Joseph, Sunset Shimmer x Jotaro Kujo, Rainbow Dash x Josuke Higashikata, Fluttershy x Giorno Giovanna, Applejack x Johnny Joestar, Twilight Sparkle x Timber Spruce, and Flash Sentry x Derpy Hooves.
I changed the tag a bit.
Chapters (39)