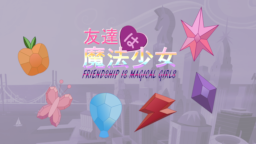 Mysterious deaths and unexplained incidents plague Pony City.
A standoffish transfer student has a secret: she is a magical girl sent to fight evil.
She intends to complete her mission alone, but five others share her destiny...
Welcome to Pony City, where friendship is magical girls.
This story is on hiatus until after the completion of Persona EG. Sorry.
Now with its own TV Tropes page!
It is strongly recommended that you set your chapter formatting to Dark or Ultra Dark when reading this story.
A guide to the chapter titles can be found here.
(This story may contain some vocabulary unfamiliar to many readers. It is strongly recommended you open this document in another tab for reference.)
Chapters (31)