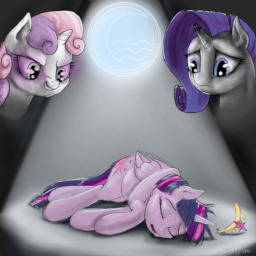 This story is a sequel to Avatar: The Last Alicorn. Book 1: Pegasus
---
This is a parody of avatar the last airbender, using ponies! Following the second book, with the Water Nation having seemingly won, embracing all the nations in its icy grip, will Twilight and her friends be able to stop them before they can unleash Discord and return his chaos to the world? With so much lost and destroyed, will Twilight be able to endure facing off against the fearsome Nightmare Moon?
Special thanks to Angel_Bunny for editing the chapters for me
Please enjoy!
Full collection:
Avatar the Last Alicorn:
Book 1.
Book 2.
Book 3.
Book 4.
Legend of Diamond Tiara:
Book 1.
Book 2.
Book 3.
Book 4.
Disclaimer: "Avatar: the Last Airbender" and all associated characters, storylines, and materials belong to Nickelodeon and were created by Bryan Konietzko and Michael Dante DiMartino.
Artwork by Silfoe
Chapters (49)