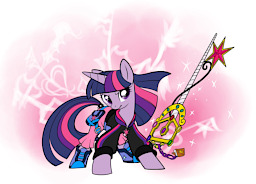 Source
Twilight Sparkle wakes up one day and her whole life is gone. Her friends are missing and there are monsters roaming the streets of every town throughout Equestria. What can she do to save her missing friends? And if she does, will her life ever be able to go back to the way it was before?
Twilight begins an epic journey to save her friends from the endless hordes of Heartless. (Note: you don't need to know anything about Kingdom Hearts to read this. This theory has been tested by a group of my friends who know nothing of the game series. Regardless, I recommend the games to everyone, for there are many little Easter Eggs that I've hidden :D)
I am looking for a proofreader, to try and help me with my revisions. I am going back and looking at, and rereleasing each existing chapter of this series, as well as the ones that have yet to be released, making them all into the same format.
Omigoshomigoshomiosh! I was on the featured stories thing! Thank you all so much! You're the best!!
Also, there are some spoilers in the comments, so if you don't want to see them, avoid that section until you are caught up.
Chapters (14)