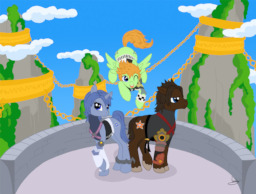 Source
READ THE ENTIRE DESCRIPTION BEFORE READING!
The planet of Harmonis has been attacked by vampires. They are led by an evil god whose goal is to take over every planet to ensure the survival of the vampire race. Two planets have already been colonized by the ruthless god and he intends to take over a third. Now the Elements of Harmony and the Equestrian military must team up with a group of ponies who wield strange weapons called "Keyblades." Along the way they'll find new lessons and some unexpected friends.
Pairings: VentusxTwilight, SoraxKairi, TerraxAqua
Pic is from Here
Some important side notes
1: NO DISNEY OR FINAL FANTASY CHARACTERS OR WORLDS WILL APPEAR AT ALL IN THIS FANFIC. They MIGHT be mentioned, but they won't appear.
2: This story takes place after Kingdom Hearts 3 and Between Lesson Zero and Luna Eclipsed of My Little Pony: Friendship is Magic.
3: Some knowledge of the Kingdom Hearts franchise is required to get certain things about this story. Cutscene movies are available on YouTube if you want to know the story.
4: Some characters from other works will appear in this series.
5: This story ,along with other stories I plan on making that take place in this same universe, will use elements of Hindu/Indian/Buddhist mythology.
6: This story takes place in an alternate, more futuristic Equestria.
7: This is not a fanfiction in which the characters from the other series have been transformed into ponies. All Kingdom Hearts characters, as well as characters from the other works will be treated as if they were born ponies.
Chapters (4)