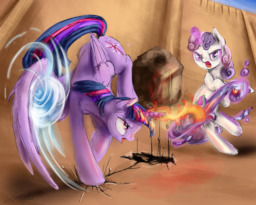 This story is a sequel to Avatar: The Last Alicorn. Book 1: Pegasus
---
This is a parody of avatar the last airbender, using ponies! Following the first book, will Avatar Twilight be able to find an earth bending master, as well as develop the skills to add a third element to her repertoire? Will her new skills allow her to keep one step ahead of her newest, and possibly greatest, enemy, the young Sweetie Belle?
Special thanks to Angel_Bunny for editing the chapters for me
Please enjoy!
Full collection:
Avatar the Last Alicorn:
Book 1.
Book 2.
Book 3.
Book 4.
Legend of Diamond Tiara:
Book 1.
Book 2.
Book 3.
Book 4.
Disclaimer: "Avatar: the Last Airbender" and all associated characters, storylines, and materials belong to Nickelodeon and were created by Bryan Konietzko and Michael Dante DiMartino.
Artwork by Silfoe
Chapters (31)