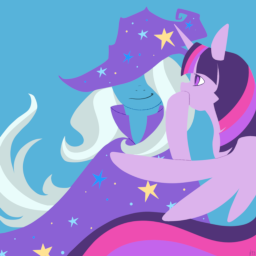 This story is a sequel to Twilight Sparkle And the Very Confusing Day
---
There were a few loose ends after Discord, who had turned into Eris, had gone into season and turned the entire world upside down in order to create enough chaos for favourable draconequus breeding conditions. Celestia had released the Flutterbeast upon Eris, restoring order and gender normality all over the globe.
Except not everypony and everybody changed back. Males who became mares and became pregnant, stayed mares, Eris' final parting gift of confusion and chaos in the world.
Both of the sexes are now so much more aware of each other's needs following the events of the Great Swap, and Eris' chaos had the unintentional side effect of creating a new level of harmony in the world, as suddenly everypony and everybody now had first hoof (or firsthand) experience in being the opposite sex.
Eris going into season also created the ideal conditions for the apocalypse.
Edit: Featured on Sunday, April 20th, 2014! Oh my gosh oh my gosh oh my gosh!
Chapters (9)