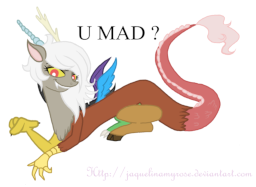 Source
Twilight and her friends all get together for a sleepover, looking forward to some well deserved downtime. Discord arrives, standing outside in the rain, pleading for entrance and to come in out of the weather. Twilight Sparkle insists that this is a mares only sleepover, so Discord does the only thing he can do, doing the unthinkable to gain entry.
Once inside, Discord, now Eris, tries to bond with the mane six and learn the magic of friendship.
The mane six fail to take into account the magic of Discord.
Now featured on April 16th, 2014. Thank you all so very much!
Chapters (5)