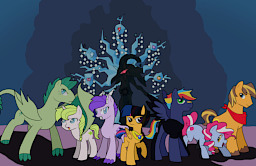 Source
Everybody knows the story of Twilight Sparkle and her friends, from the time they got the Elements of Harmony, to the point where they co-founded the first Council of Harmony.
But every story must end, and every ending is a beginning, and this beginning is for their children. This is the story of the first great adventure of Starburst, Prism Bolt, Anthea, Turquoise Blitz, Crystal Clarity, Golden Delicious and Cotton Candy, as they embark on a journey to save Equestria from a new threat!
Based on the wonderful characters created by the talented Kilala97. Go and check out these links for info about these characters:
Kilala's Next Gen
All Next Gen Trivia
Cover Art by bico.
Co-written with Hidden Scorpius XI.
TRIGGER WARNING: This universe supports Flashlight, so if you are still hurting over your lost waifu, then turn back and leave. No need to be hating on here.
Chapters (7)