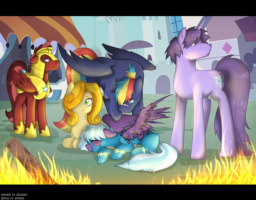 This is my first entry into Kilala's 'Fun Fact Fan Fic' contest.
Fun Fact: Whirlwind is terrified of fire
I will be writing based on my own NON-CANON ideas and I will be borrowing a little bit from the events in Kilala's picture "Burn", Enjoy.
Whirlwind has finally accomplished her dream of becoming a Wonderbolt. But when a house fire breaks out in Ponyville, Whirlwind finds herself facing her worst fear. After sustaining a crippling injury, Whirlwind will find comfort in one of her best friends. Though she might just find a little more then just comfort.
Chapters (2)