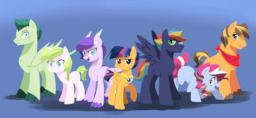 Following an Anti-Superhero Act, all super-ponies have been forced into retirement and the Power Ponies have been disbanded. Eventually moving on and starting families of their own.
However, one fateful day the former Power Ponies get a distress call from an old ally to help out a high-tech facility gone wrong. Soon they are captured and discover a government conspiracy to rid the world of all super-ponies in an attempt to completely dominating the planet!
Now their only hope left for the world rests in the hooves of their children.
Crossover: The Incredibles
Story given by DarknessRising
Oc's belong to Kilala97 and Borsuq
Edited by VampDash and LightningSword
Proofread by Crescent-Blade
Teen rating is there just incase
Chapters (6)