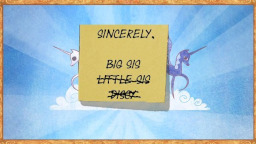 What if the prehistoric conflicts of Equestria weren't as dramatic as they have been made out to be? What if they had been waged through post-it notes? Actually, that would be pretty dumb.
Here is a story that is pretty dumb.
Rated Teen for crudely drawn butts and graphic depictions of passive aggression.
Chapters (5)