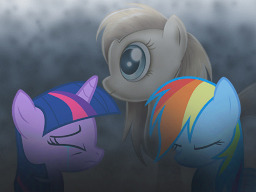 When Rainbow Dash makes a startling revelation to Twilight Sparkle, it sparks a serious discussion about painful events in the past, what the future holds, and self-realization and the nature of destiny.
Featured on Equestria Daily on December 14, 2011!
"Equal parts heart-wrenching and beautiful. The author has managed to portray Dash in a way I never thought possible."
- EQD Pre-reader #R107
UPDATE: The final edition is written and published as of October 12, 2015!
The sequel to this story, Scent of Roses, is now complete!
The other sequel (although chronologically a prequel, technically), Born in Equestria, is also now finished.
Chapters (2)