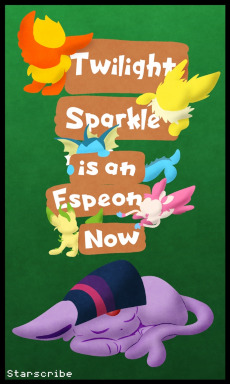 Twilight Sparkle wakes up one day feeling strange. Everything is gigantic, her tail is wrong, and she can't help but notice all the unusual smells. Her hopes that it might be one of Discord's strange pranks are quickly dashed, as she discovers the effect is more widespread than she initially guessed. Twilight Sparkle is an Espeon now.
But will Equestria survive it?
---
Written on a bizarre whim because the world needs more eevees. Then Sparktail supported me on https://www.patreon.com/user?u=3226653 to keep going, the absolute mad lad. He and Two Bit did the wordfixing. Zutcha did the eevee cutes.
Updates daily until complete.
Chapters (13)