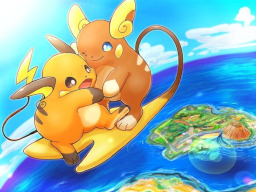 Source
This story is a sequel to Little Lost Pikachu
---
It has been over a month since an adorable Raichu named Nica crash-landed in a strange world called Equestria, and nearly a week since Astra and Ash's pokemon followed, along with her charming brother Ace. After a few dangerous and thrilling adventures, and one or two snuggles, Twilight was able to find a way home and create a portal back to Alola.
Now, backed by Twilight, Starlight and Rainbow Dash, the pokemon begin their quest to reunite with their trainers and introduce the ponies to their world. Though, rather than come home to a lively vacation spot filled with humans and pokemon alike, they encounter a dangerous challenge, one they might not be able to defeat.
Will Twilight's team and the Chu brigade be able to overcome the odds and defeat the foe that brought ruin to Alola? Or will they share the island's fate?
Massive thanks for very solid proof-reading to:
Jay Tarrant
UnknownGiggs
Chapters (24)