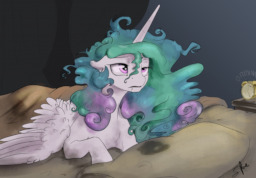 Source
After a rowdy party in celebration of Princess Celestia and the human Mark's engagement, all things should be back to normal… should, being the keyword there. No running water in the castle is only the start of the downward spiral. Much love, many laughs, and too much of a good thing are about to put everypony over the edge.
Lots of talk about sex, but nothing explicit.
----------
Cover art is by the wonderfully talented artist Silfoe without permission, so if there are any issues feel free to yell at me to remove it!
This is a gift for none other than the wonderful Little Big Pony! I hope you enjoy it, you've written some amazing stories, and I hope you keep up the trend. Pre-read and edited by the amazing Pascoite and wonderfully astute Fregz.
Box of Shame, M on, top position 3/5/2020. RIP.
Chapters (3)