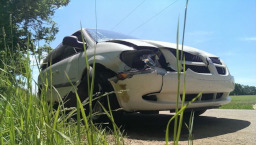 Out for a pleasant walk through the woods, Princess Celestia takes a break from dealing with Earth politics and finds herself exiting next to a long, black road. As it just so happens, a native comes by and hits her with roughly two tons of steel, plastic, and glass.
Luckily, the vehicle's occupant carries lots of napkins and bandages.
----------
Now translated into Chinese thanks to Nova Twinkle!
Now translated into Spanish thanks to SPANIARD KIWI!
This story is based on true events. Written for my good friend, Admiral Biscuit, as a commission/payment for a set of rear wheel bearing puller heads for a slide hammer. He also pre-read and edited it, because that's how he rolls.
Box of Shame second position 12/25. Bah humbug.
Chapters (1)