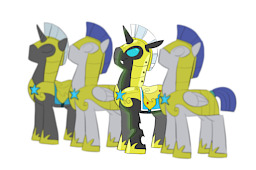 Idol Hooves holds a special place in Equestria. He's probably the only exiled changeling to serve in the Royal Guard, or at least, that's what he expects, as exiles don't really broadcast that fact. However, it's well known that Princess Celestia loves all of her little ponies, and her guards perhaps more so, and that makes it one of the best ways for a changeling to discreetly feed.
But how does a changeling even get there, let alone get exiled in the first place? For that matter, why would it ever go to Canterlot? Set a number of years before the series proper, before Luna's redemption, Idol details how he was exiled, the ponies he's met, and the series of misadventures that led him to joining the Royal Guard, and should continue a good ways into the series, as something of an alternate perspective.
Soon, he'll have to deal with a boisterous new princess to serve and a royal wedding in the works bringing a third to power. Will his old instincts bring this new life crashing down around him? What precipitates Chrysalis's ill-fated assault on Canterlot? Is it really so wrong for a changeling to enjoy good craftsmanship to an obsessive degree?
New cover art provided by the fantastic Carnifex
And a TVTropes page here.
And an Ask Blog of questionable canonity!
Out of Idol Curiosity
Fanart by Norad2! Major thanks! Short For a Royal Guard
Art by Egophiliac of Idol and his Daring Duckie Please don't tell him what that brush is meant for.
Rating updated to (T), it's a bit darker than (E)
Comedy Tag added as well
And changed the character tags a bit.
Chapters (70)