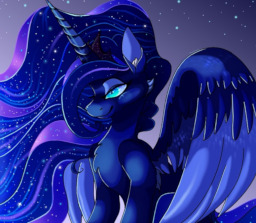 (My interpretation of Vdrake77's Idol Hooves during the Canterlot wedding)
*Edits for the first two chapters kindly provided by Airy Words!
Idol Hooves is the only changeling in the entire Equestrian Guard, and has been proudly serving for over a decade (while disguised). His enlistment buddy and friend, Shining Armor, the current Captain of the Guard, is finally taking the next step to officially becoming Princess Cadence' s personal guard, 24/7.
With most guards being reassigned to the wedding, Idol (by Luna's demand) is given the temporary assignment to be Princess Luna's personal gaurd due to a shortage in the Night Gaurds numbers.
Now, after another all-nighter looking for potential threats and with Idol's persistence, Luna finally agrees and turns in for the day. With Idol Hooves being the sole guard watching Luna's door, a promise was made that could ruin Eqauestria.
Princess Luna will get her well deserved rest, and nothing short of Princess Celestia herself will wake the deathly tired princess.
Chapters (9)