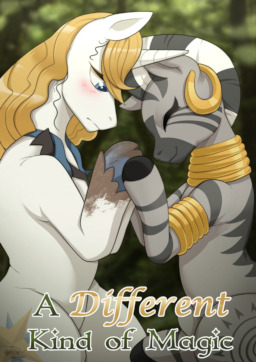 Blueblood fled Tirek's initial attack, but his escort was caught in the middle of the Everfree Forest; he barely managed to escape into the woods where he was discovered by the local inhabitant, Zecora. As the days turn into weeks and with no sign of normalcy manifesting, the prince begins questioning his new routine, and that of the zebra in his life.
Can something more than magic thrive in their little corner of the Everfree Forest, or will both of their secrets be the cause of their downfall?
---
For the May Pairings 2022 Contest.
Commissioned the cover art from the talented Scope, and it looks lovely! You can find him on: Twitter, and Deviant Art
Chapters (3)