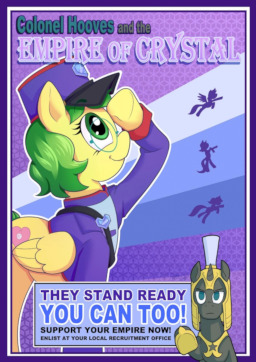 This story is a sequel to Idol Hooves and The Deathly Tired Princess
---
Recently promoted to the rank of Colonel, (not his fault) Idol Hooves is tasked with the supervision of rebuilding the Crystal Empire's Guard Force. As the first Colonel in several centuries, Celestia, Luna, and his friends Shining and Cadence feel the rank and his stoic demeanor will be a boon for the traditionalist crystal ponies.
Plus his recent fame thanks to the plush dolls made in likeness are sure to draw recruits in by the wagon full!
How will Idol and his family handle this new life in the land of the far north? Can Idol keep Cersus out of trouble long enough to finish his task before being court-martialed?
---
Commissioned the cover art from Scope from the COTG Discord, and it looks lovely! You can find him on Twitter, and Deviant Art
Chapters (13)