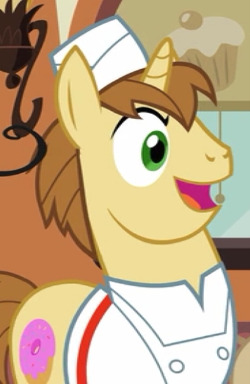 Luna is the Princess of the Night, which is normally a job she loves...except on Hearts and Hooves Day night. Naturally, that is an evening of private nocturnal events and dreams for most ponies, and so Luna must put in overtime to make sure she assists her subjects without crossing any bounds, causing any awkwardness, or putting herself anyplace she isn't wanted.
Fortunately, Luna can at least take a break this evening to go to her favorite twenty-four hour bakery, Donut Joe's. Donut Joe is always there, no matter how late the hour, with a smile on his face, a mug of coffee for her in one hoof, and a plate of donuts for her in the other. And Luna is always happy to take a seat at the counter and talk with her new friend.
Meanwhile Donut Joe has had a special appreciation for his best night customer ever since her return over a year ago. He has always found something beautiful in the nights...and now he has found something familiar and comforting and special in Princess Luna.
Perhaps on this most romantic of evenings, a little something will come along to give these two a nudge toward each other.
(That little something ends up involving Discord, Celestia, love 'poison', and a party in Las Pegasus, by the way.)
---
Sequels:
Donut Nights 2: A Heartfelt Hearthswarming,
Donut Nights 3: Nightmare Night Canoodling
Chapters (1)