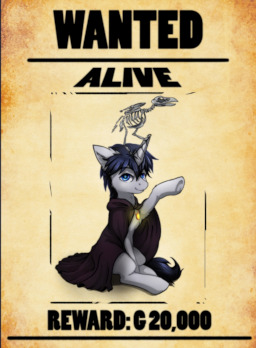 Set only a week after the banishment of Princess Luna to the moon, the realm of Equestria is in a state of upheaval. Celestia's royal guard attempt to regain control over the vast empire once ruled by dual monarchs, and the young alicorn's actions as a ruler have become a subject of scrutiny after her sister's attempted coup. Two factions have risen in the turmoil: The Knights of the Sun and The Bright Moon.
Far away from the political infighting and sword rattling exists a small mining town on the outskirts of Equestrian territory. Where once the royal guard would have no trouble fending off raids from bandits or other criminals, the panic of the capitol has caused a withdrawal of military forces to more essential cities and trading ports. Completely undefended and without a spell or sword amongst them, this town was soon overrun by a band of bi-pedal canines calling themselves the Diamond Dogs. As brutal as they are lazy, the Diamond Dogs have forced the local population to work until collapse to collect gems from the town mine.
Outraged by his inability to fend off these bandits and thieves, a young unicorn named Bone Marrow tries with all of his might to find his purpose in life - his cutie mark - and hopes that it will be enough to drive off the invaders of his home. He will soon discover that his special talent is far more than he bargained for.
((A Sequel will begin for this story as soon as I finish I Am a Pet Changeling. Stay tuned on Discord! https://discord.gg/nDXd3AB ))
Chapters (30)