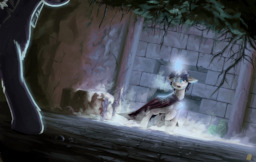 This story is a sequel to Necromancy For Foals
---
Twilight Sparkle and Rainbow Dash find themselves drawn by the call of the cutie map to a jungle in the middle of nowhere. Drawn further by the knowledge of an ancient temple, they are confronted with icy cold and a sense of dread.
A Necromancer was sealed away in this temple a thousand years ago.
Now, he is waking up...
((Sequel to Necromancy for Foals. Artwork by The-Minuscule-Task on Tumblr.))
Chapters (15)