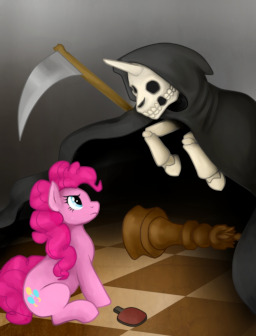 Source
Pinkie Pie has a decent life, all things considered. Working at Sugarcube Corner, throwing parties, saving the world, making friends. She had a pretty good run. But when she comes face to face with the Grim Reaper and her own demise, she definitely doesn't want to let go. So she does the only thing she knows to do to avoid death itself, and challenges him to a game for her life.
But even if she wins, did she really escape death, or is she not out of his grasp yet?
---
The cover art was a commission courtesy of waxraven.
Chapters (1)