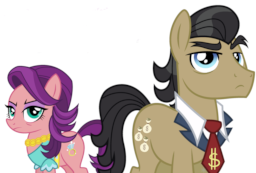 Filthy and Spoiled Rich have marital problems. They can't agree how to raise their daughter, and their marriage lacks the connection and partnership it once had.
And to make matters worse, they have been sent by a chaos god to the world of Everglow. A world full of magic and adventure, but also one that is much more dangerous than Equestria.
Fortunately, where there is opportunity, a clever couple can seize upon it, hoping to discover a way home from the relative safety of shop ownership, instead of taking up arms and throwing themselves into danger.
But for many, the adventuring life chooses them, instead of them choosing the adventuring life. And it can be a bit pushy.
Chapters (18)