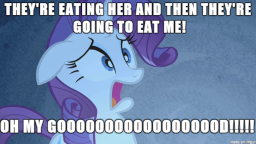 Source
While on a mysterious camping mission of mysterious unknown purpose, Rarity and Twilight find themselves in a perilous predicament. Can love truly bloom on the battlefield?
---
A non-serious entrant for Monochromatic's "INTERWOVEN COLOURS" contest.
Coverart taken from some unknown hero on Derpibooru who apparently made it on Imgur... I didn't know what else to use... you know what just read the story and maybe it'll make sense.
Prereadin' looky-loos provided by Ferret and Randon!
Chapters (1)