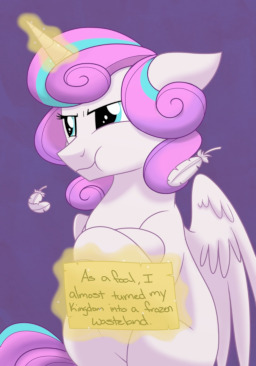 Okay, first off, you don't get to call me Flurry Heart. Not unless you have special privileges which are only afforded to those who are related to me and/or are national heroes. Or, I guess, if you're that guard that mom sends after me...
Point is, I'm Skyla. Got it memorized? SKY. LA.
Now these are the stories of how I earned myself that name. And a few other titles. And look, maybe mom and dad say I'm just going through a phase, but I say PHASES ARE FOR WIMPS. This, is who I am!
And the only reason I'm using Circus-Cinnamon's photo is because I can't find any other photos with how I really feel on it. I mean seriously, crystal ponies, I'm yelling half the time, is it that hard to take an angry picture?!
Chapters (7)