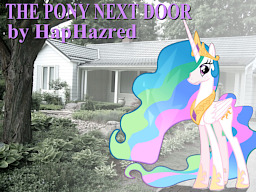 Stev is an outgoing family man, who loves his wife and his neighborhood. However, he's surprised to find out that the house next to his is being rented out to travellers on holiday... and who should show up but a graceful, elegant, magical pony looking for a nice relaxing trip to the country to unwind.
Like the good neighbour he is, Stev invites her to join him, his wife, and friends, to a barbeque. And like the gracious mare the tourist from Equestria is, she accepts.
But vacations don't last forever.
My submission to the Everfree Northwest Contest. Rated Everyone for ponies.
Chapters (1)