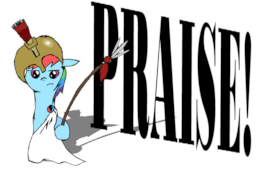 In this day and age, who has time to be a God? Prayers come in 24/7 and fancy dress is compulsory. Rainbow Dash certainly doesn't have time. She's got bills to pay and things to do. Besides, she isn't qualified for Godhood, surely.
The ponies who say her control of the weather is divine disagree, unfortunately. They've given her a funny spear and a robe that doesn't quite fit. They've got their own temple and they take church seriously.
And it turns out she's not the only pony recently undergone apotheosis...
Teen for immature jokes.
Chapters (1)