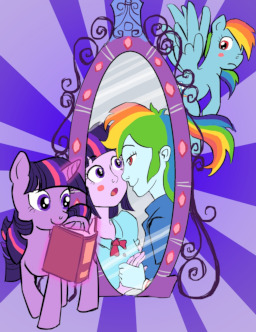 Twilight Sparkle makes her maiden voyage to the human world! During her adventure, she meets a group of girls who inspire the same magic of friendship Twilight found long ago back home. In particular, she finds a familiar friend in one girl calling herself "Rainbow Dash."
But this Rainbow Dash has more than just friendship to offer the otherworldly princess. She also has her own outlook on life, and insights into her pony counterpart that Twilight would never have guessed... and will never forget.
---
Editing by nanashi_jones. Cover art by CViperfan.
A deluxe-sized, from-scratch re-exploration of a previous concept.
Chapters (8)