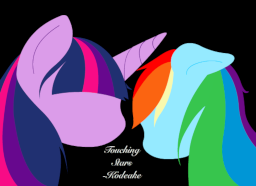 Source
A few month ago, Rainbow Dash found Twilight stargazing up on the balcony of Golden Oaks library. Ever since then she's come back, every night, and listened to Twilight's lectures on everything astronomy.
Twilight never found out why Rainbow came to the library that first night, but when she makes an unusual request one night, she discovers more than she thought she would about her pegasus friend.
New cover art generously provided by Angelic Flight over on DA. Go check her stuff out.
Chapters (1)